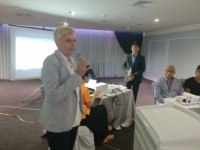 Hungary became one of the International Tchoukball Federation's (FITB) newest members at the 2017 FITB General Assembly in Kaohsiung, Taiwan. Members of the FITB in Europe are automatically members of the ETBF. Hungarian President Anita Kunos thanked the General Assembly for the election of Hungary and spoke to the ETBF afterwards.
Hungary is Europe's newest tchoukball association, founded in 2016. Now tchoukball played in 7 schools across Hungary and investment in the sport has seen tchoukball equipment become a much more common sight. Anita also teaches wheelchair tchoukball once a week in her school. Speaking in acceptance of the Hungarian Association's new position, Anita was keen to express her thanks for the help she has received.
"I would like to thank Pierre-Alain Girardin and Chiara Volonté for their help in starting tchoukball in Hungary. It was support from Chiara initially that inspired me to start tchoukball. Although it was difficult at first, tchoukball in Hungary has experienced real growth and I am excited about the future.
Chiara Volonté was delighted to see Hungary elected.
"Anita has done tremendous work to start tchoukball in Hungary. It has been a pleasure to help her and to have so many schools playing after just 1 year is a major achievement. The ETBF looks forward to working with Hungary in the future."