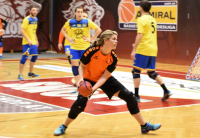 Anna has been playing tchoukball for around ten years having started in 2008 after her best friend Max Ciperle invited her to a tchoukball camp in Lignano – she immediately fell in love with the sport and how it's a sport based around "fair play, family and passion".
Since she first picked up a tchoukball ten years ago, she has turned herself into a defender for both Ruck Tchouk and for the Austrian National team. She is a right-handed player but finds that "defence is her favourite" position so she rarely shoots in games.
Her exposure to international tchoukball first came at the FITB World Youth Tchoukball Championships which was hosted in Traiskirchen, where she helped Austria to a 3rd place finish. Since this first tournament, she has represented Austria in one World Tchoukball Championship (Ferrara 2011), three European Tchoukball Championships (Radevormwald 2014, Jicin 2016, Castellanza 2018), and multiple tournaments in the Geneva Indoor Nations Cup – admitting to us that she has lost count of how many games she has played!
Amongst all of Anna's accolades for Ruck Tchouk and Austria, she highlights the moment she was made club captain as her favourite tchoukball memory as she feels that this is a result of an enormous amount of hard work. She said, "for a long time, I was the only girl on the team but I never wanted to be the weak point so I went to training every week" and this is something that has clearly paid dividends as, under Anna's captaincy, Ruck Tchouk won EWC in Rybnik in 2016.
Away from the tchoukball court, Anna is now a qualified nurse and midwife and will start working in a hospital in March. Prior to starting work in the "real world", she has been travelling around southern Asia, going to Malaysia, Thailand, Indonesia and Singapore – as well as having previously stayed in Tanzania for two months on an internship in a hospital. She did manage to play some tchoukball during her travels and mentions having played with Singapore Freakshow Club and Arusha Tchoukball Club. When she's not playing tchoukball, which she admits takes up most of her free time, she can be found hanging out with her friends and playing various games such as card games, board games and computer games.
Anna feels that the best thing about tchoukball is that the sport is more than just a hobby and it is a real part of her life – she spends most of her free time and money on training sessions or going to different tournaments. She highlights how amazing the atmosphere is on and off the court and how great it is to have a few drinks with other teams at the end of the day – like a big tchoukball family. She also mentioned that the sport offers lots of variety in that it can be played indoors, on grass or on sand, there are different positions you can play and different formats of team to play with – mixed teams, women's teams, men's teams, national, international or totally random.
Having played tchoukball for ten years, Anna is an excellent person to ask how the game has progressed in recent history and she noticed that the "zero shot" is becoming more and more common and is no longer as "special" as it used to be. She also mentioned how the Italian men managed to beat the previously unreachable Taiwanese team which is a big step forward for European tchoukball.
In the future, she would like for more people to know that tchoukball exists and for games to be broadcast on TV. It would also be nice if clubs were sponsored in the future as this would allow for more training sessions and better quality of tchoukball.
Of course, having played tchoukball for more than ten years, Anna has met lots of players from around the world but she highlighted three tchoukbaes that she couldn't live without. The first is Martina Haberl, her tchoukball buddy and best friend both on and off the court. Anna and Martina have played together at pretty much every tournament since Anna started playing the game. She also mentioned Vroni Schafler and Julia Meixner who started tchoukball at the same camp in Lignano in 2008 as they have plenty of great memories from Lignano and Rimini tournaments.
She would encourage any up and coming tchoukballers to go to as many training sessions and games as possible and to really "push yourself to the limit" as it will pay off in the end. It also enables you to meet lots of new people around the world.
Going in to the tournament in Radevormwald, Anna will be mentally prepared for some big games but she finds that listening to some happy music and having a big hug with her defensive partner (often Berhard Nistelberger) helps to focus the mind. There will be plenty of big games in EWC for Ruck Tchouk but Anna's main priority is to ensure she and her team have fun playing the games and have a great evening on the final night with some of the other teams.