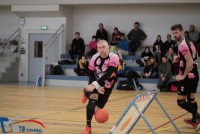 Frenchman Sylvain Flizot first caught a tchoukball five years ago when he joined Tchoukball Club Comtois in Eastern France and has since taken the club to new heights.
41-year-old Flizot's first and last national team appearance was in 2018 during the FITB European Tchoukball Championships in Castellanza before continuing on to become the coach of the French Women's team. As a reliable and trustworthy player, Sylvain had the perfect skillset to create a resurgence of French tchoukball.
As a left-handed player, he was enticed by the atmosphere of the sport after experiencing it with a friend and encouraged to try playing as a left shooter. Flizot soon found his feet and now describes tchoukball to be his second family, but only just! He's had some incredible encounters and been blessed with wonderful opportunities that he finds it hard to say no.
His first victory at the French Cup final in February 2018 makes for one of his favourite memories, something he'd like to see replicated in the coming years. He was aware that the standard of French tchoukball was lower than that of neighbouring countries, and despite making good progress, it was still not enough. Flizot has made it his mission to improve the standard of the French game by working exceptionally hard and playing against stronger teams to raise the level. Since then, his club has participated in major overseas tournaments such as the Geneva Indoors and the Domini Fox Memorial tournament in Portsmouth and continues to steadily progress.
Flizot feels particularly inspired by fellow French national player Cyril Florel, as he's provided Sylvain with a great deal of knowledge about the game and instilled in him a sense of perseverance and determination to never give up! He feels motivated to excel during every match he plays. The most important thing for Sylvain is exposure to tchoukball. He stands by his saying that "when I play, I never lose – I either win or I learn". Flizot's goal this tournament is naturally to win, but also for a French club to claim a victory. In five years, Tchoukball Club Comtois have achieved an impressive amount, coming from very little to win the French Cup in both 2018 and 2019, so a win at an EWC match is well within their grasp.