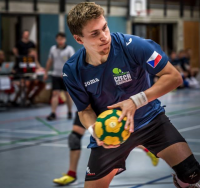 Our second player from the Czech club of Limeta Lomnice and Popelkou is right-handed player, Dominik Šimůnek.
His tchoukball foundations were built at Limeta eight seasons ago in 2011 and he's remained with the club ever since. He's previously played beach tchoukball but decided to take it more seriously after he gave up athletics.
His wife had been playing tchoukball for some time alongside her siblings before he decided to make an agreement with them. If, at the Czech Beach Championships in 2011, the team were to win, he would take up tchoukball seriously. Eight years later and that agreement is still standing strong. Plus, it's a nice way for Dominik to spend time with his family playing a fast-paced game.
The 31-year-old initially joined the team as a shooter, but he struggled to decide which side he preferred. Eventually, he settled for being a right shooter in order to perfect his zero-degree shots. Sadly, for Šimůnek, ankle injuries have plagued him since and as a result, he has adapted to become a strong defender within the past two years, a position he played at the last EWC. The team's goal for this year's tournament is to incorporate younger players into the team and give them a chance to compete against the best players. Their final placing does not hold as high of an importance as allowing everyone the opportunity to improve and experience a tournament at an international level. For Šimůnek personally, he simply aims to get better and ensure he continues to play.
Having picked up tchoukball at 23 years old, Šimůnek has never competed in the Junior National team. His national tchoukball debut came in 2012 in a friendly match against Poland, followed by the FITB European Tchoukball Championships in 2014 and 2016, as well as the Nations Cup in Geneva of the same years. Tchoukball is not the only sport that the Czech has competed nationally in, however. In 2005 and 2006, Šimůnek was a junior in the national athletics team and dreamt of the Olympics as a marathon runner. After succumbing to injuries, he decided to take a step back and participate in sport at a level he could maintain without further damage or pain to himself. His hobbies now include always thinking about how to be the best father that he can be to his three daughters, helping them grow into successful, young women. Other passions lie in economics and investment whilst he works in programming.
When looking over his tchoukball career to date, Šimůnek can pick out two great memories. Firstly, the Elite Tournament at the Geneva Indoors 2016 where Limeta Lomnice won unexpectedly. His second is at the Rimini Beach Festival in 2017, where he 'had the chance to play with some of the best European tchoukball players in one team – "The Zeroes" - and win the whole tournament', For those memories and teammates, he is eternally grateful.
Tchoukball isn't hard to fall in love with. It's a game full of respect and equality where players admit their shortcomings and try even harder to be the best they can. Šimůnek appreciates that a high level of tchoukball can be attainable for anyone, no matter how tall, short, old or young you are. He would still like to see the sport grow to a more sustainable level in certain countries but continues to maintain and promote its spirit of good sportsmanship. It is a sport of 'precision'. When comparing tchoukball to 2012, Šimůnek can immediately see that players are pushing their physical and tactical boundaries, alongside changing the structure of the teams themselves. He is always trying to be one step ahead of the opposition and that is the advice he would give to upcoming players. Learn from everyone all the time, during training, tournaments, even whilst you're just messing around. Try to recreate the techniques from some of the best players and work hard on them – never give up.