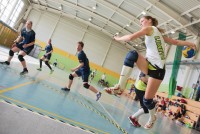 This week, we hear from Jitka Šimůnková, the right-handed defender representing Limeta Lomnice and Popelkou at this year's EWC in Radevormwald.
Šimůnková, 29, started playing tchoukball at the 2008 Czech Beach Championships and has since appeared in the Czech national team at the World Championship in Ferrara (2011), two European Championships in 2014 and 2016, as well as an appearance at the Nations Cup in Geneva (2016).
Šimůnková has always been a keen athlete and won medals in various disciplines from the 60m sprint, 150m, the high jump, the long jump and the heptathlon but somehow her brothers managed to convince her to add tchoukball to her busy schedule. As well as enjoying athletics, Šimůnková can be found teaching tai-chi, coaching tchoukball for 7-11 year olds (including her daughter) and works as a physiotherapist.
Her favourite tchoukball memories to date are from EWC and the Geneva Nations Cup in 2016 where Limeta Lomnice were able to play with some of the strongest teams around. At the EWC in Rybnik, 2016, Šimůnková and her teammates were able to beat Val-de-Ruz (their first ever victory over a Swiss team) as well as beating Bury Kings twice as they finished fifth.
Of course, there are lots of great things about tchoukball, and we asked Šimůnková what some of her favourite things are: "I like that it is so fast and you can immediately counter-attack," was her instant response, as well as highlighting that it is a sport for which you do not need to be the stereotypical athlete of most sports to enjoy it. She added that it is great to see a sport where you can train and play games with people of the opposite sex and the fair-play aspect of the game which everyone is always keen to promote.
Since beginning her tchoukball career in 2008, she feels as though both the size and the quality of the game have increased and that it is always encouraging to see new clubs and nations joining the tchoukball community. On the court, she notes that the ability and range of shooting has moved forward a long way since she started playing.
Going into EWC in Radevormwald, Šimůnková's main aim is to hopefully participate in some of the games. As her youngest daughter will be 10 months old at the start of the tournament, she is unsure as to whether she can play or not but she hopes to join her teammates and number one tchoukbae (and husband) Dooma (Dominik Šimůnek).
The one bit of advice she would give any upcoming players, including those whom she is already coaching, is to train, train, train! More specifically, she believes that everyone needs to work on their defence as "you only need four shooters but you need seven catchers on the court".