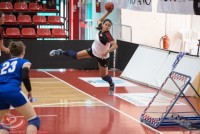 Our female star this week is Meyrin Panthers's 25 year old defender, Talita Carneiro Rodrigues, who plays as a defender at club level and as a right-handed right shooter for the Swiss Women's national team.
After first learning the game at school, Carneiro Rodrigues began playing for Geneva Tchoukball Club in 2003 to really give her a solid grounding in the game. As a club renowned for its effective and inclusive programmes, especially for beginners, it allowed her to grow into a strong defensive player before moving on to Chambésy, which later merged and became Meyrin, where she still plays now for the club's first team the Meyrin Panthers. In 2012 she became a part of the senior Swiss national team, competing in tournaments over the years such as the annual Geneva Indoors (2012 onwards), as well as the European Tchoukball Championships in 2014 and 2018. She has accumulated a total of 55 appearances playing for her country, mainly as a right shooter. The European Tchoukball Championships in Castellanza played host to her favourite tchoukball memory, where the Swiss national team managed to reach the final which was played "with a lot of tension but still at an amazing level" vs. Italy, but they were ultimately beaten after extra time!
It's not often you are able to play sport to an international level in a mixed team, let alone surpass the ability of male counterparts. By the time you've reached adolescence, girls and boys are separated and sent down different routes, rarely playing together unless for a charity match or a friendly, non-league game. Tchoukball in Europe is quite the opposite. Single-sex teams are reserved for the European and World Championships, with all club events played as a mixed sport. This feature of tchoukball is one of the nicest things about the sport for Swiss player Carneiro Rodrigues. Carneiro Rodrigues has loved every moment of her tchoukball career so far, meeting her best friend, team mate and partner in life, Thomas Produit, and creating a 'tchoukball family'.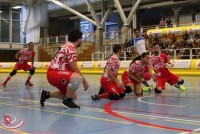 Carneiro Rodrigues does say that since she started playing tchoukball, the games are much faster and it is more difficult to be able to read and predict the shots that she has to defend. She also says that the best advice she would give to a younger player is to focus on "passing and [it's] impact on the rhythm of the game" as games can "be changed by intelligent game construction". Considering her observations regarding the construction of tchoukball tactics, it may not be surprising to hear that Rodrigues spends her time away from the tchoukball court by building models as an architect – but she admits that often she finds that tchoukball-related hand/finger injuries are not exactly helpful for her career!
Despite this upcoming tournament being part of her last year in tchoukball, she still hopes that the level of ability in the game will continue to rise and become even more pronounced amongst sport worldwide. Most of all, she hopes that tchoukball will never lose the friendly, close-knit atmosphere that reigns over the game. She uses the energy from her team mates to get motivated for a big game, and hopes that they will be on top form as they arrived in Radevormwald for EWC 2019, with hopes of reaching the final!
Authors: Tara Granea and Nick Rowe
Editor: Stuart Blakemore
Photos: David Sandoz, Cassandra Renaud