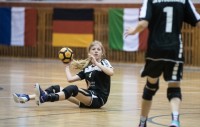 This week, we turn our attention towards a German team in ASC Weimar and we speak to their German international defender: Adele Anhalt, 16, who will be one of the youngest players at the EWC in Radevormwald.
Anhalt took up tchoukball 7 years ago, following in her father's footsteps. This 'fair, fast and fabulous' game is central to the young defender's passion for sport. The bubbling atmosphere amongst her teammates drives her motivation during a game, vowing to '[never] give up no matter how hard it [gets]'. She relishes the fact that everyone can play together; there are no boundaries or limits depending on your age or ability but there is always room for improvement and learning new skills. Without a doubt, this is a common thought amongst many tchoukball players. It is an environment of no judgement and a lot of enjoyment.
At club level, the right-hander has always played for "the young savages" of ASC Weimar, but she has a host of international experience too. She represented the Germany U15 girls in the FITB European Youth Tchoukball Championships in the Czech Republic in 2016, and followed that up with her senior debut for the German women at European Tchoukball Championships in Italy last year, representing her country in six matches. Anhalt is particularly fired up for big games by her teammates and the atmosphere they generate between them. They'll have plenty of big games to play in Radevormwald where mshe is maturely realistic of their chances, expecting them to finish between 8th and 10th place. However, Anhalt is of course dreaming that they can do even better!